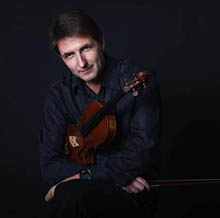 He's a Chamber music teacher at "Pollini" Padova's State Conservatoire. He started to study music at Asti's local music school, where he was violin teacher for nearly 20 years. He went on studying with Camillo Grasso (first violin at Rome's Opera Theatre), Corrado Romano (teacher of Uto Ughi) and Franco Gulli (concert performer and teacher at Bloomington University- USA). Before getting his degree in violin he started to work for some of the most important National Orchestras (RAI national television, "Carlo Felice" Theatre in Genova, Opera Theatre in Rome, Regio Opera Theatre in Torino and some others…).
Then, he devoted himself to the study of chamber music and founded the  Athenaeum Piano Quartet that made him win several prizes in different competitions. He also performed concerts for important associations and attended Siena's Chigiana Academy (tnanks to a grant) where he got a merit degree. He played in a quartet with Bruno Canino and Pier Narciso Masi, two of the most important Italian pianists. Besides, he often performed solo concerts and he was first violin in many Italian orchestras. He founded Asti's Chamber Ensemble and promoted Asti's Symphony Orchestra, whose first concert, conducted by Orio himself,  took place at the "Alfieri"  Theatre in Asti.
After taking a public examination he became a  conservatoire teacher.
He has been giving summer proficiency courses since 1999 and Masterclasses in Malaga and Oviedo, (Spain), Cyprus, Banska Bystrica (Slovak), Porto and Braganca (Portugal), Istanbul (Turkey), Timisoara (Romania), Thessaloniki (Greece), Francisco Beltrao (Brazil), China (Beijing, Nanjing, Suzhou, Wuhan, and others), Kazakistan (Astana and Almati).
He played in Italy, Swisserland, Germany, France, Austria, Finland, Spain, Portugal, Greece, Slovak, Chek Republic, Brazil, China, Kazakistan, Cyprus, Syria.
Invited by State Conservatory in St. Petersburg for an educational meeting.
In addition, he got a degree in viola.
He was often invited as a member of the Tekfen Filarmonyc Orchestra in Istanbul, formed by the best musicians of more than 20 different countries.
From november 2009 to 2015 he was director of the "Buzzolla" Conservatory of Music in Adria.
Professor at the Katarina Gurska conservatory in Madrid, Franz Liszt Center for young talents in La Nucia and Alter Mvsici center in Cartagena (Spain).
István is considered as one of the most refined pedagogues and pianists of our time. His students are frequent winners in national and international competitions with more than hundred prizes. Pianist and internationally recognized teacher: he has been invited in Master Classes in Budapest (Hungary), in the World Teachers Conference in Novi Sad (Serbia), in the Katarina Gurska Higher Center, in Forum Musikae (Madrid), in the International Piano Festival "UIS" in Bucaramanga, in Manizales (Colombia), Special School of Music in Apatin, Sombor, Senta, Backa Topola (Serbia), Professional Conservatory in Alicante and Dénia, in the International Festival of Music in Valencia etc. He is jury member in frequent international competitions such as Bucaramanga (Colombia), the IMFV Valencia competition, the Ibiza International Competition, the "Villa de Xabia" International Contest, the Franz Liszt Contest in Rome (Italy), Béla Bartók Contest in Graz (Austria) etc.
Winner of several awards in national and international competitions. Since the age of 15 he has given recitals in Europe, the United States, South America and Asia. To name a few: in Alexandria and New Harmony (Indianapolis, USA), in the International Piano Festival in Bucaramanga, International Piano Festival in Barrancabermeja, cycle "International Season in Manizales" (Colombia), "Kolarac" in Belgrade ( Serbia), in the "Kodály" Institute, "Kodály" School, in the "Béla Bartók" Museum, in one of the most important festivals "Zsidó Kulturális Fesztivál" in Szeged (Hungary), recitals in Sweden, Greece, in the festival "Midis-minimes", in "Muziekacademie de Berchem-Sainte-Agathe in Brussels (Belgium) and in Spain in important auditoriums such as the Palacio de Cibeles in Madrid, Palau de la Música in Valencia, Teatro Principal de Alcoy, congress center" Victor Villegas "in Murcia, in the" Adoc ", in the University of Burgos, in the International Chamber Music Festival in Calpe, in" Dénia Classics ",  Aula de la Cam in Alicante, Teulada Auditorium, La Beneficencia in Valencia, in the Auditorio de la Diputación, "ADDA" in Alicante, Auditorium Mediterrania in La Nucia among others. He has performed in private concert for the Princess of Thailand S.A.R. Chulabhorn Mahidol.
He is founder and member of the international Camerata "Universal Music". He has performed with international artists such as Clara Novakova, Joaquin Palomares, Joan Enric Lluna, Jovan Bogosavljevic, Susanna Gregorian, with the soloists of the Orchestra of Valencia etc.
In 2017 István Székely made the recording of five Chopin studios of exceptional virtuosity for the sounding of the animated short film Impromptu, directed by María Lorenzo and produced by Enrique Millán, with the participation of Cultur Arts (Generalitat Valencian) and the A Punt Media network . Impromptu has been one of the most relevant Spanish animation shorts of the last year, being shortlisted for the Goya 2018 Awards. It was premiered at the emblematic Alcalá de Henares Film Festival, and so far it has been screened in more than 50 events in 20 countries, such as the Animation Festival of Annecy (France), the Bristol Encounters (United Kingdom), Anima Mundi (Brazil) or the Animation Nights (New York). Prizes won: Best Art Animation at the Expression Art Movie Festival (Los Angeles, USA), Best Short Film (exaequo) at the Animaze Animation International Festival (Montreal, Canada), Best Experimental Animation Short at the International Animation Cardboard Festival - La Tribu (Buenos Aires, Argentina), Best Animation Short Film at the Astorga Film Festival (Spain), Best Valencian Animation at the Cortoons (Gandía)
Not to confuse with 1960 born István Székely pianist.
MARTONE GIUSEPPE (Pianist) Born in Rome, he graduated in piano with honors from the State Conservatory of music "Licinio Refice" in Frosinone, under the guidance of Prof. Marylene Mouquet. He studied jazz music with Maestro Gerardo Iacoucci, later studied composition and has attended various courses of Advanced Piano in Italy and abroad, including the most significant ones stand out with the Masters Vladimir Krpan in Sorrento, Aquiles Delle Vigne in Flaine (France) and at the Mozarteum in Salzburg, Aldo Ciccolini and Bruno Canino in Rome, Florence, Naples and at the Hochschule "Franz Liszt" in Weimar (Germany). Has always distinguished itself in several national and international piano competitions, since 1991 he performs regularly in concerts, with chamber ensembles (from duo to quintet), as solo several times in recitals and as a soloist with orchestra (Mozart – Concert K466; Beethoven – Concert n. 3; Mendelssohn – Concert in la minor and other) in many italian cities (Roma, Perugia, Napoli, Pizzo, Terni, Taormina, Marsala etc) and abroad; with repertoire ranging from Bach to the authors of the twentieth century. He is the Artistic Director of the Accademia Musicale Romana; of the International Competition "Academy Award" of Rome and of the Accademia Festival and Accademia Festival Jazz in Saracinesco (Rome). He is involved for many years of orchestras and also he is the responsible for the Orchestra of the Accademia Musicale Romana. From 2015 he is Artistic Director and Professor (piano, music theory and solfeggio) in the Courses in Convention with State Conservatory "S. Cecilia" in Rome.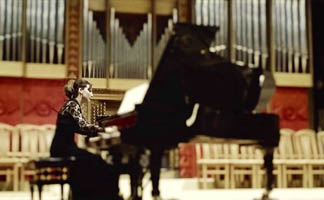 She was born is Miskolc, she started her musician studies at the age of 5.
Studies:  
ELTE-PPK Mentor teacher program
PTE Musician artist Master piano artist teacher program
ELTE-PPK teacher exam – Kovács-method
Liszt Ferenc Zeneművészeti Főiskola (musician college), Miskolc
Bartók Béla Zeneművészeti Szakközépiskola (musician high school), Miskolc
Egressy Béni Zeneiskola (music school), Miskolc
Her piano teachers: Bacsa Tiborné, Csabay Csilla, Balázs Adrienne, Kincses Margit, Király Csaba.
She has taken part – inter alia – courses of Falvai Sándor, Keveházi Gyöngyi, Némethy Attila, Gyimesi László, Vásáry Tamás, Malcolm Bilson.
Concerts: European countries (Austria, Switzerland, Italy, Romania, Slovakia, Bulgaria, Ukraine).
She has given many charity concerts in Hungary and abroad.
She is a constant participant of the Váci Világi Vigalom (Vác Secular Feasting).
In 2013, EMMI (Ministry of Human Resources, department of Hungarian Goverment) adjudicated her the "Bonis Bona – For the Talents of the Nation" award, because of her prominent work in music teaching and talent management.
From 2014 she is a member of "Nemzeti pedagógus kar" (National Teacher Faculty).
She has got the Master degree of teachers in 2014.
She became a musician consultant in 2015.
She won the X. International Music Competition "Musica Insieme" III. award, 2015, 15th Concorso Internazionale "Don Vincenzo Vitti" III. award, 2016.
She is a founding member of the Danubia Talents competition and master class, 2016.
She was a jury member of the 7th International Competition "Youth Academy Award", Rome, Italy, 2017.
She will be a jury member of the 8th International Competition "Youth Academy Award", Rome, Italy, 2018.
She will be a jury member of the VI Concurso Internacional de Piano "Vila de Xabia", Spain, 2018.
She is the jury member of the Danubia Talents competitions in Hungary and in Italy.
She will be a teacher of the masterclasses in Saracinesco and Rome, Italy, 2018.
In the last years, her students have won more than 100 awards, they were the winners of several national and international competitons.
She is an enthusiastic representative and advertiser of Kovács-method, which takes an important part in her work.
Publications: dr. Kovács Géza Emlékkönyv 2016.
Source: http://www.hetek.hu/interju/201402/zenelni_csak_szivvel_lehet
web: www.kissjulianna.com
Serbian violinist, Mina Mendelson graduated from the Music Academy in Belgrade, where she subsequently completed both her Master's Degree and PhD, the latter with the highest mark and constituting the first 'Doctor of Performing Art –Violin' awarded in Serbia. Throughout this time she studied under Prof. Fern Raskovic, a student of the great David Oistrakh, and participated in masterclasses with Sreten Krstic, leader of Munich Symphony orchestra, Prof. Mateja Marinkovic, Professor of the Royal Academy of Music, as well as Sabine Grollmus and Stefan Barratdue.
During her studies, Dr. Mendelson won various top prizes in national and regional competitions as well as international prizes. She has performed in the most prestigious concert halls in the Balkan region including Kolarac - Belgrade, Sinagoga - Novi Sad and Glazbeni zavod - Zagreb as well as a soloist with several important orchestras including Belgrade Strings 'Dusan Skovran', Nis Symphony Orchestra and St George Strings.
Known for her elegant and sophisticated performances, Dr. Mendelson is an active and successful chamber musician. As a student and member of St George quartet she participated in a masterclass with Prof. David Takeno at the Guildhall School of Music. Her outstanding performances led to a scholarship from the Norwegian government to study at the University of Kristiansand.
As a soloist, chamber musician and in leading positions of St George Strings, Belgrade Strings 'Dusan Skovran' and Jewish Chamber Orchestra she has appeared in many festivals, including BEMUS, NOMUS, NIMUS, Ohrid Summer Festival and European Days of Jewish Culture, as well as music festivals in Sofia, Bodrum, Sapanca and Kalemegdan. In addition, she has performed in France, England, Bulgaria, Holland, Croatia, Hungary, Montenegro, Turkey and China as well as all across her native Serbia where she made many recordings for the leading Serbian radio and television stations.
In parallel with her busy performing career, Dr. Mendelson is also in demand as a teacher. She is an Associate Professor at the Faculty of Arts in Nis, Serbia.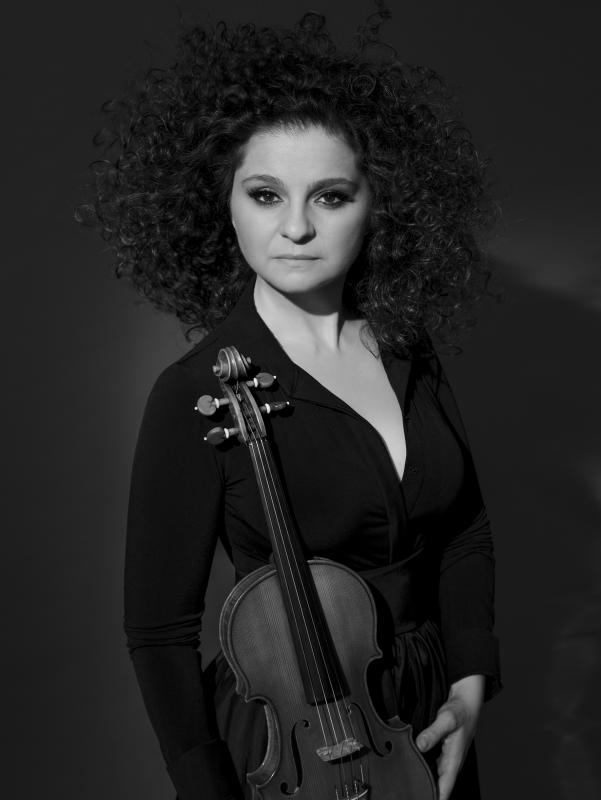 Orsolya Korcsolán violinist has recorded recently Sandor's Kuti chamber works, and Miguel Kertsman's violin competition, which was dedicated for her, with the contribution of the London Philharmonic Orchestra and Dennis Russel Davis conductor at Deutsche Grammophon, the best-prestigeous classical music publisher of the world.
According to the Scene Magazine, her violin playing is "heartbreakingly beautiful", Pizzicato says that listening to her is an "incredible experience", the Crescendo Magazine considers her performance "full of emotion". "Amazing technique, wonderfully individual violin sound and adorable performance" (Jeremy Kaplan, TIME magazine), what has been getting a great attention by a wide international audience since her New York debut.
Her chamber music partners include the Grammy Award-nominated clarinet player David Krakauer, the Grammy-nominated and Echo-winning Avi Avital mandolin player as well. He performs as a concertmaster of the Kammersymphonie der Wiener Symphoniker and world-famous conductors such as Zubin Mehta, Michael Tilson Thomas and Christoph Eschenbach.
She is the soloist of the Ferenc Liszt Chamber Orchestra, the Raiding Liszt Festival, the Musikverein of Vienna, the Shir Amy Ensemble in New York several times.
She performed on the Karl Amadeus Hartmann's Concerto Funebre in Hungary.
Her first two recordings, MOSAIC-Classical Jewish themes for violin and piano, and her other album that showed Korn Goldmark -Károly Goldmárk and Eric Korngold's music works, were released at the prestigious Solo Musica München publisher.
Now, the third album, recorded by Deutsche Grammophon, commemorates the work of the Hungarian composer, Sandor Kuti, who was killed in the Holocaust,and presents his never heard chamber music compositions.
She is a dedicated interpreter and researcher for the work of composers who died in the Holocaust. He is one of the founders of the Holocaust Documentation Center and Memorial 'Missing Links' concert series, the Ambassador of the Jewish Cultural and Summer Festival worldwide, the resident musician and art consultant of the Goldmark Festival in Budapest and the Jüdische Kulturwochen Wien.
The young violinist was the student of the Ferenc Liszt Academy of Music in Budapest from the age of 12, where he received her diploma with honors. She continued her studies on the recommendation of Sir György Solti in New York, at The Juilliard School, where she obtained her master's degree with the direction of Dorothy DeLay and Itzhak Perlman. In New York, he won the Dorothy DeLay Award and the Cornelius Vander Starr Prize. These  prestigious prizes only exceptionally talented musicians can get.
Besides the concerts and international masterclasses, she is the founder and director of "Musikschule in Wien" and "International Palffy Masterclasses" which is in Pálffy Palace, in the heart of the imperial city, Wienna, where she lives.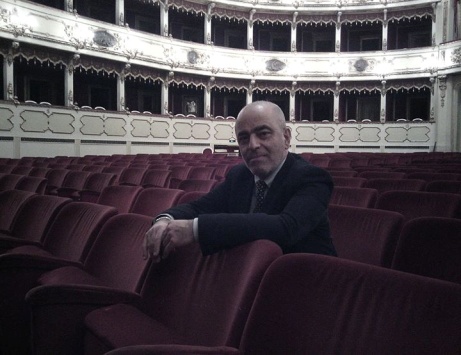 Heir to the chamber music tradition of Eugenio Bagnoli (renowned pianist disciple of  A.Casella with multifaceted activities in duo with N.Milstein, H.Szeryng, Y.Menuhin, Z.Francescatti, J.Starker and many others) to which he owes his training, he graduated with highest honors from the Conservatory "B. Marcello" in Venice. Follows the courses of Franco Gulli, Marco Zuccarini and of the New York University-Department of Music, also studying conducting. Performs at the Gran Teatro La Fenice in Venice, at the Teatro Filarmonico in Verona, at the Teatro Verdi in Trieste, at the Teatro Bibiena in Mantua, at Palazzo Strozzi in Florence, and so on.
The artistic work includes hundreds of concerts in Italy, Europe, Russia, Malaysia and Africa. He collaborates with musicians such as the violinist Felix Ayo and Georg Monch, the tenor Luigi Alva, the soprano Katia Ricciarelli, the mezzosoprano Sara Mingardo, the violinist Giuliano Fontanella, the first flute of RAI National Symphony Orchestra of Turin Dante Millozzi and others. He gets great success with concerts of Liszt, Mendelssohn, Mozart, Bach, etc. together symphony complex of fame such as the Orchestra of Radio and Television in Ljubljana.
The repertoire is vast: it includes songs from the eighteenth century to the present day and complete cycles of various authors  which all the Mozart sonatas for piano and violin, the work for piano duet by Mozart and Brahms, the Sonatas by Hummel with flute, etc.
He is invited to play in honor to the tenor Luciano Pavarotti, the mezzosoprano Giulietta Simionato and others bigs artists; he performs live for domestic and foreign TV broadcasting. Makes recordings for the labels Decca, Newton Compton, Rivo Alto, Idyllium, Inedita CD e Metis Film. He Is often jury president or member in national and international piano and chamber music competition, regularly gives courses and masterclasses in Italy and abroad (Paderewski Academy of Poznan - Poland, Staatliche Hochschule fur Musik in Mannheim - Germany, Estonian Academy of Music and Theatre in Tallinn - Estonia, State Conservatoire in Kazan - Russia, etc).
His students are often rewarded in various Italian and international competitions. By years is artistic director of several concert seasons and music performance competitions: actually he is member of the National Artistic Direction of A.Gi.Mus. and the President of A.Gi.Mus Fano Marche-Rotary Club Fano. He is Professor of Chamber Music at the Statal Conservatory of Music "S. Cecilia" in Rome and institutional member of the "European Chamber Music Teachers Association".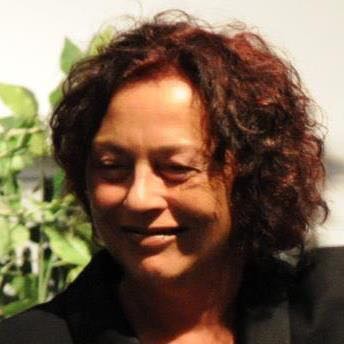 Graduated in piano studies with full marks under the guidance of Pavla Pokojna at the Conservatory of Bratislava, her hometown.
Specialised in piano studies in Belgium with Jacques Genty, winning the Premier Prix at the Conservatory of Mons, at Bonn with Stefan Askenase and in Rome with Fausto Zadra, Carlo Zecchi, Tito Aprea and Guido Agosti.
Specialisation courses at the Salzburg Mozarteum with Carlo Zecchi and Enrico Mainardi, and at the Centro Internazionale di Studi Musicali with Nikita Magaloff. Winner of the First Prize at the Brussels "F. Chopin" Contest in 1969, since then she has held numerous concerts for major concert organisations, both as soloist and with chamber orchestra, in Czechoslovakia, France, Switzerland, Germany, Belgium, South Africa, Turkey and Italy.
She has taken part in international festivals, including the XXI Festival dei Due Mondi at Spoleto. For Italian television, she recorded a commemorative concert for the 50th anniversary of the death of Leos Janacek. She has recorded for RCA, as well as participating in the sound tracks of Nino Rota, Luis Bacalov, Armando Trovaioli and Carlo Crivelli. In December 2003 she took part in the Manifestazione Internazionale di Musica Contemporanea "Corpi del Suono", performing "Plus Minus" by Stockhausen. She holds specialisation courses regularly in Italy and abroad, and has sat on the jury of numerous Italian and international contests. She holds the principal chair for pianoforte at the Conservatory "A. Casella" at L'Aquila, Italy.
Hungarian born conductor and horn player of the Wiener Symphoniker Gergely Sugar received his principal education at the famous Franz Liszt Academy of Music in Budapest and at the University of Music in Vienna where his professors included composers Ivan Madarasz, Adam Kondor, conductors Tamas Gal, Laszlo Kovacs, and horn-players Friedrich Gabler and Adam Friedrich.
At the age of 21 he became one of the youngest members of the Budapest Festival Orchestra under the baton of Maestro Ivan Fischer who influenced him to persuade his conducting carrier. After winning the horn-audition and becoming a member of the prestigious Wiener Symphoniker at the age of 23 Gergely continued his conducting studies with legendary Maestro Jorma Panula in St. Petersburg Russia, dutch orchestra creator Maestro Kees Bakels and David Gimenez Carreras.
His first conducting engagement included the St. Petersburg Academic Festival Orchestra in Russia the chamber-players, chamber choir, brass ensemble and youth orchestra of the Malaysian Philharmonic Orchestra throughout Malaysia as well as the Kammersymphonie der Wiener Symphoniker at the majestic Musikverein and Konzerthaus in Vienna.
Gergely has been cover conductor for Christoph von Dohnanyi and Thomas Hampson for Arnold Schoenbergs 'A Survivor from Warsaw' collaborated and conducted works by the american composer John Adams in Konzerthaus Wien, premiered compositions by Miguel Kertsman and led the Illustrated Chamber Performances Concert Series at the Petronas Twin Towers presenting classical masterpieces by Leopold and Wolfgang Amadeus Mozart, Joseph Haydn, Antonin Dvorak, Johann Strauss and Pyotr Ilyich Tchaikovsky in Kuala Lumpur.
His upcoming performance highlights in the 2017 season include works by Gustav Mahler ('Das Lied von der Erde'), violin concertos by Felix Mendelssohn Bartholdy and Kurt Weil, works by Conlon Nancarrow, Aaron Copland, Sergei Prokofiev, Ludwig van Beethoven and Igor Stravinsky.
Gergely's recordings as soloist of the Christoph Förster Horn Concerto, 'Jugend' by Siegfried Karg Elert, Septett Op.20 by Ludwig van Beethoven and Robert Schumann's Adagio and Allegro are available at the labels Solo Musica München, Hungaroton and Schloss Weinzierl respectively.
Gergely Sugar is University Professor at the University of Music and Performing Arts in Graz, Austria.
Gergely resides in Vienna with his wife violinist Orsolya Korcsolan and his son Natan.