Rintaro AKAMATSU, born in Oita (Japan) in 1978, started the piano and violin at 2 year-old and cello at 6 year-old. Many concerts and broadcasts on public since his childhood. He performed Mozart's concerto with cadenza extemporaneously at 10 year-old. After the Grand Prix of "All Japanese Students' Music Competition" in 1990, he won numerous prizes in Japan.
His first international honor was the 3rd prize on "Clara Schumann" international piano competition in 2000. One of juries was Martha Argerich, and Dr. Joachim Kaiser mentioned him as "an intelligent and talented pianist" on ZDF's program. Later years, he won more than 10 prizes in international competitions.
He majored musicology at the Kobe University, and got Diplôme supérieur de concertiste (a l'unanimité avec félicitations du Jury) of both piano and chamber music at the Ecole Normale de Musique de Paris. While staying Düsseldorf, Paris and Budapest, he studied under Mikhail Voskresensky, France Clidat, Jean Micault, Nina Patarcec, Christian Ivaldi, Gyorgy Nádor, Zoltán Kocsis.
He performed in Saint-Petersburg (2000), Düsseldorf (2001/2013), Taipei (2002), Paris (2003-2005), Beppu Argerich Festival (2004), Roma (2005), Budapest (2005-2007), Bogotá (2010), Vienna (2013) etc.. He regularly takes more than 60 concerts a year in Japan including concerto and chamber music. His newest CD recording will be released by KING INTERNATIONAL in 2014.
As a professor, he appears many winners in various competitions from 200 students. In addition, he has much activities as a jury, an essayist of papers and magazines serially, and the managing director of the Japan Liszt Society. He became a guest professor from 2016 april.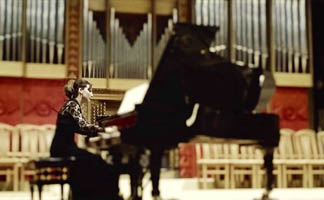 She was born is Miskolc, she started her musician studies at age 5.
Studies:  
ELTE-PPK Mentor teacher programme
PTE Musician artist Master piano artist teacher programme
ELTE-PPK teacher exam – Kovács-method
Liszt Ferenc Zeneművészeti Főiskola (musician  college), Miskolc
Bartók Béla Zeneművészeti Szakközépiskola (musician high school), Miskolc
Egressy Béni Zeneiskola (music school), Miskolc
Her piano teachers: Bacsa Tiborné, Csabay Csilla, Balázs Adrienne,
Kincses Margit, Király Csaba.
She has taken part – inter alia – courses of Falvai Sándor, Keveházi Gyöngyi, Némethy Attila, Gyimesi László, Vásáry Tamás, Malcolm Bilson.
Concerts: Austria, Switzerland and Italy
She has given many charity concerts in Hungary and abroad.
She is a constant participant of the Váci Világi Vigalom (Vác secular feasting).
In 2013, EMMI (Ministry of Human Resources, department of Hungarian Goverment) adjudicated her the "Bonis Bona – For the Talents of the Nation" award, because of her prominent work in music teaching and talent management.
From 2014 she is a member of "Nemzeti pedagógus kar" (national teacher faculty).
She has got the Master degree of teachers in 2014.
She became a musician consultant in 2015.
She won the X. International Music Competition "Musica Insieme"  III. award, 2015, 15th Concorso Internazionale "Don Vincenzo Vitti"  III. award, 2016.
She is a founding member of the Danubia Talents music event, 2016.
She will be a jury member of the 7th International Competition "Youth Academy Award", Rome, 2017
In the last  years, her students have won more than 100 awards, they were winners of  national and international competitons.
She is an enthusiastic representative and advertiser of Kovács-method, which takes an important part in her work.
Publications: dr. Kovács Géza Emlék könyv 2016.
Source: http://www.hetek.hu/interju/201402/zenelni_csak_szivvel_lehet
web: www.kissjulianna.com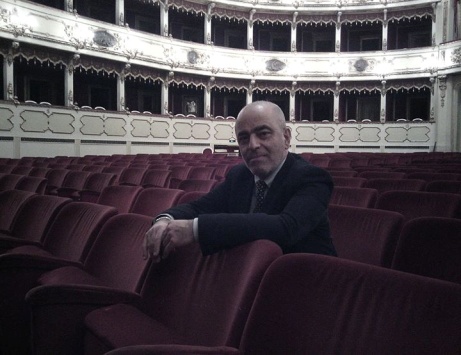 Heir to the chamber music tradition of Eugenio Bagnoli (renowned pianist disciple of  A.Casella with multifaceted activities in duo with N.Milstein, H.Szeryng, Y.Menuhin, Z.Francescatti, J.Starker and many others) to which he owes his training, he graduated with highest honors from the Conservatory "B. Marcello" in Venice. Follows the courses of Franco Gulli, Marco Zuccarini and of the New York University-Department of Music, also studying conducting. Performs at the Gran Teatro La Fenice in Venice, at the Teatro Filarmonico in Verona, at the Teatro Verdi in Trieste, at the Teatro Bibiena in Mantua, at Palazzo Strozzi in Florence, and so on.
The artistic work includes hundreds of concerts in Italy, Europe, Russia, Malaysia and Africa. He collaborates with musicians such as the violinist Felix Ayo and Georg Monch, the tenor Luigi Alva, the soprano Katia Ricciarelli, the mezzosoprano Sara Mingardo, the violinist Giuliano Fontanella, the first flute of RAI National Symphony Orchestra of Turin Dante Millozzi and others. He gets great success with concerts of Liszt, Mendelssohn, Mozart, Bach, etc. together symphony complex of fame such as the Orchestra of Radio and Television in Ljubljana.
The repertoire is vast: it includes songs from the eighteenth century to the present day and complete cycles of various authors  which all the Mozart sonatas for piano and violin, the work for piano duet by Mozart and Brahms, the Sonatas by Hummel with flute, etc.
He is invited to play in honor to the tenor Luciano Pavarotti, the mezzosoprano Giulietta Simionato and others bigs artists; he performs live for domestic and foreign TV broadcasting. Makes recordings for the labels Decca, Newton Compton, Rivo Alto, Idyllium, Inedita CD e Metis Film. He Is often jury president or member in national and international piano and chamber music competition, regularly gives courses and masterclasses in Italy and abroad (Paderewski Academy of Poznan - Poland, Staatliche Hochschule fur Musik in Mannheim - Germany, Estonian Academy of Music and Theatre in Tallinn - Estonia, State Conservatoire in Kazan - Russia, etc).
His students are often rewarded in various Italian and international competitions. By years is artistic director of several concert seasons and music performance competitions: actually he is member of the National Artistic Direction of A.Gi.Mus. and the President of A.Gi.Mus Fano Marche-Rotary Club Fano. He is Professor of Chamber Music at the Statal Conservatory of Music "S. Cecilia" in Rome and institutional member of the "European Chamber Music Teachers Association".