Rintaro AKAMATSU, born in Oita (Japan) in 1978, started the piano and violin at 2 year-old and cello at 6 year-old. Many concerts and broadcasts on public since his childhood. He performed Mozart's concerto with cadenza extemporaneously at 10 year-old. After the Grand Prix of "All Japanese Students' Music Competition" in 1990, he won numerous prizes in Japan.
His first international honor was the 3rd prize on "Clara Schumann" international piano competition in 2000. One of juries was Martha Argerich, and Dr. Joachim Kaiser mentioned him as "an intelligent and talented pianist" on ZDF's program. Later years, he won more than 10 prizes in international competitions.
He majored musicology at the Kobe University, and got Diplôme supérieur de concertiste (a l'unanimité avec félicitations du Jury) of both piano and chamber music at the Ecole Normale de Musique de Paris. While staying Düsseldorf, Paris and Budapest, he studied under Mikhail Voskresensky, France Clidat, Jean Micault, Nina Patarcec, Christian Ivaldi, Gyorgy Nádor, Zoltán Kocsis.
He performed in Saint-Petersburg (2000), Düsseldorf (2001/2013), Taipei (2002), Paris (2003-2005), Beppu Argerich Festival (2004), Roma (2005), Budapest (2005-2007), Bogotá (2010), Vienna (2013) etc.. He regularly takes more than 60 concerts a year in Japan including concerto and chamber music. His newest CD recording will be released by KING INTERNATIONAL in 2014.
As a professor, he appears many winners in various competitions from 200 students. In addition, he has much activities as a jury, an essayist of papers and magazines serially, and the managing director of the Japan Liszt Society. He became a guest professor from 2016 april.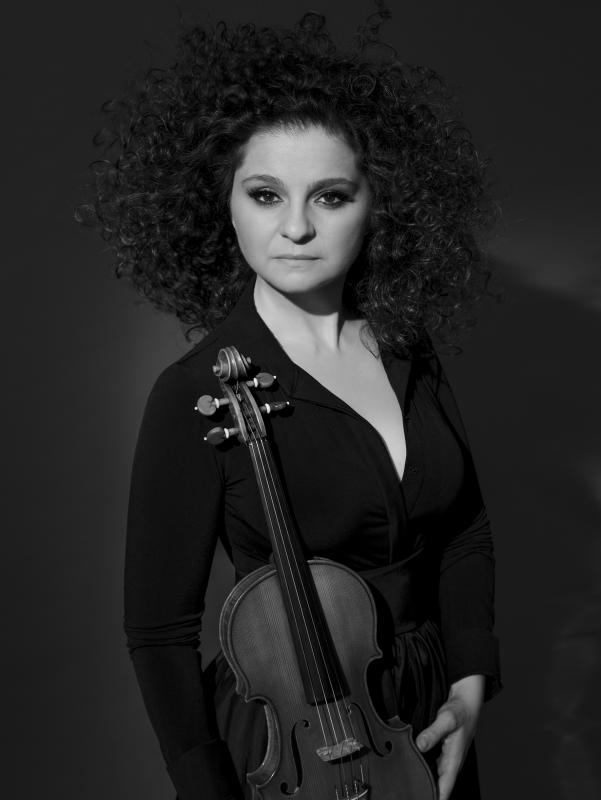 Orsolya Korcsolán violinist has recorded recently Sandor's Kuti chamber works, and Miguel Kertsman's violin competition, which was dedicated for her, with the contribution of the London Philharmonic Orchestra and Dennis Russel Davis conductor at Deutsche Grammophon, the best-prestigeous classical music publisher of the world.
According to the Scene Magazine, her violin playing is "heartbreakingly beautiful", Pizzicato says that listening to her is an "incredible experience", the Crescendo Magazine considers her performance "full of emotion". "Amazing technique, wonderfully individual violin sound and adorable performance" (Jeremy Kaplan, TIME magazine), what has been getting a great attention by a wide international audience since her New York debut.
Her chamber music partners include the Grammy Award-nominated clarinet player David Krakauer, the Grammy-nominated and Echo-winning Avi Avital mandolin player as well. He performs as a concertmaster of the Kammersymphonie der Wiener Symphoniker and world-famous conductors such as Zubin Mehta, Michael Tilson Thomas and Christoph Eschenbach.
She is the soloist of the Ferenc Liszt Chamber Orchestra, the Raiding Liszt Festival, the Musikverein of Vienna, the Shir Amy Ensemble in New York several times.
She performed on the Karl Amadeus Hartmann's Concerto Funebre in Hungary.
Her first two recordings, MOSAIC-Classical Jewish themes for violin and piano, and her other album that showed Korn Goldmark -Károly Goldmárk and Eric Korngold's music works, were released at the prestigious Solo Musica München publisher.
Now, the third album, recorded by Deutsche Grammophon, commemorates the work of the Hungarian composer, Sandor Kuti, who was killed in the Holocaust,and presents his never heard chamber music compositions.
She is a dedicated interpreter and researcher for the work of composers who died in the Holocaust. He is one of the founders of the Holocaust Documentation Center and Memorial 'Missing Links' concert series, the Ambassador of the Jewish Cultural and Summer Festival worldwide, the resident musician and art consultant of the Goldmark Festival in Budapest and the Jüdische Kulturwochen Wien.
The young violinist was the student of the Ferenc Liszt Academy of Music in Budapest from the age of 12, where he received her diploma with honors. She continued her studies on the recommendation of Sir György Solti in New York, at The Juilliard School, where she obtained her master's degree with the direction of Dorothy DeLay and Itzhak Perlman. In New York, he won the Dorothy DeLay Award and the Cornelius Vander Starr Prize. These  prestigious prizes only exceptionally talented musicians can get.
Besides the concerts and international masterclasses, she is the founder and director of "Musikschule in Wien" and "International Palffy Masterclasses" which is in Pálffy Palace, in the heart of the imperial city, Wienna, where she lives.
Sugár Gergely kürtművész és karmester a Bécsi Szimfonikus Zenekar tagja, a Graz-i Művészeti Egyetem Oberschützen-i Intézetének professzora. A NAXOS USA és a London Philharmonic Orchestra, valamint a Solo Musica München és a Barocksolisten der Wiener Symphoniker szólistája. Karmesterként a Kammersymphonie der Wiener Symphoniker vezetője, az Ambassad Orchester Wien vendégkarmestere. Nemzetközi mesterkurzusait kürtösök, valamint karmesterek részére a Vienna Summer Music Festival és a Palais Palffy Masterclasses Vienna mutatta be.
A budapesti Liszt Ferenc Zeneművészeti, és a Bécsi Zeneművészeti egyetem elvégzése után a Graz-i Müvészeti egyetemen szerezte diplomáit, majd Maestro Jorma Panula és Maestro Kees Bakels mesterkurzusain csiszolta tovább technikáját.
A Budapesti Fesztivál Zenekar, majd a Malaysian Philharmonic Orchestra egykori tagja, a Concentus Musicus Wien, valamint a Orchestre Chambre de Lausanne vendégművésze.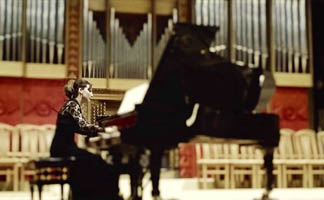 She was born is Miskolc, she started her musician studies at age 5.
Studies:  
ELTE-PPK Mentor teacher programme
PTE Musician artist Master piano artist teacher programme
ELTE-PPK teacher exam – Kovács-method
Liszt Ferenc Zeneművészeti Főiskola (musician  college), Miskolc
Bartók Béla Zeneművészeti Szakközépiskola (musician high school), Miskolc
Egressy Béni Zeneiskola (music school), Miskolc
Her piano teachers: Bacsa Tiborné, Csabay Csilla, Balázs Adrienne,
Kincses Margit, Király Csaba.
She has taken part – inter alia – courses of Falvai Sándor, Keveházi Gyöngyi, Némethy Attila, Gyimesi László, Vásáry Tamás, Malcolm Bilson.
Concerts: Austria, Switzerland and Italy
She has given many charity concerts in Hungary and abroad.
She is a constant participant of the Váci Világi Vigalom (Vác secular feasting).
In 2013, EMMI (Ministry of Human Resources, department of Hungarian Goverment) adjudicated her the "Bonis Bona – For the Talents of the Nation" award, because of her prominent work in music teaching and talent management.
From 2014 she is a member of "Nemzeti pedagógus kar" (national teacher faculty).
She has got the Master degree of teachers in 2014.
She became a musician consultant in 2015.
She won the X. International Music Competition "Musica Insieme"  III. award, 2015, 15th Concorso Internazionale "Don Vincenzo Vitti"  III. award, 2016.
She is a founding member of the Danubia Talents music event, 2016.
She will be a jury member of the 7th International Competition "Youth Academy Award", Rome, 2017
In the last  years, her students have won more than 100 awards, they were winners of  national and international competitons.
She is an enthusiastic representative and advertiser of Kovács-method, which takes an important part in her work.
Publications: dr. Kovács Géza Emlék könyv 2016.
Source: http://www.hetek.hu/interju/201402/zenelni_csak_szivvel_lehet
web: www.kissjulianna.com
Graduated in June 1999 under the guidance of M° Antonio Di Cristofano and attended the advanced courses at the Ecole Normale "A. Cortot" in Paris weith M° Nelson Delle Vigne and later in Madrid with M° Leonel Morales.
He joined several National and International piano competitions, having been consistently winner and awarded: "Accademia delle Muse" di Camaiore; "Citta di Pietra Ligure"; "Pinerolo citta della cavalleria"; "F.I.D.A.P.A", Pisa; "Citta di Albenga"; "Giulio Rospigliosi", Lamporecchio(PT), "Terme di Saturnia", Saturnia; "Uliveto Terme", Pisa; "Franz Schubert", Tagliolo Monferrato; "Citta di Cesenatico", "Citta di S.Giuliano Terme" (PI), Mallorca International Music Competition, Mendelssohn Piano Competition (Le), "Anton Garcia Abril" a Teruel, Spagna.
He held concerts for several Italian and worldwide institutions such as Salle Munch and the Salle Cortot of Parigi; Concert Noble e Maison du commune de Anderlecht, Bruxelles; Sala de Plenos, Auditorium "Manuel de Falla", Castello dell' Alhambra, Granada; Asociacion Ars et Musica, Valencia; Parador de Xabia, Alicante; Volkshochschule Reutlingen, Stoccarda; Sinkt Andraa Kirke, Salisburgo; Societa Dante Alighieri, Berna; Festival Pianistico di Grosseto, Terme di Saturnia, Teatro di Cesenatico, Teatro di Marina di Pietrasanta, Mendelssohn Festival (LE), Chiesa dei Ss. Apostoli, Sala Baldini, Domus Talenti, Roma, Sala Monteverdi Cremona, Festival Echos Alessandria, Auditorium del conservatorio di Cagliari etc..).
His wide repertoire includes solo works, chamber music works and several piano concertos. He cooperated in chambre music projects with artists such as oboist Albrecht Mayer, Soprano Elisabeth Norberg-Schultz, Cellist Hans-Eberhard Dentler.
He recently toured Japan (Tokyo/Nagoya/Chiba) with a program about the diplomatic relationship Italy/Japan. In 2016 he performed the renowned Rhapsody in Blue by G. Gershwin with the Italian National Police State Band, conducted by M° Maurizio Billi.
He is steadily cooperationg with Grosseto Symphony Orchestra, with which he recently performed Rachmaninov Piano concerto op. 18 and Beethoven op. 15 Piano concerto. He is artistic director of Orbetello Piano Festival since 2012, and since 2017 he is the founder and artistic director of Orbetello International Piano Competition.
András Csáki was born in Budapest 1981, and began to play the guitar at the age of 11. He graduated at the Liszt Ferenc Academy of Music with honor in 2007, where his professor was József Eötvös. In 2012/2013 he pursued graduate studies in the University of Southern California as a student of Scott Tennant. He received his Doctorate degree in 2014 at the Liszt Ferenc Academy of Music. Since 1995 András has been a regular participant of international master classes all over the world, including master classes held by Manuel Barrueco, Leo Brouwer, Abel Carlevaro, Costas Cotsiolis, David Russell, Angel and Pepe Romero.
Until the year of 2011 he received 24 prizes, among others he was awarded with the first prize in the 51st Tokyo International Guitar Competition in 2008, and in the 42nd "Michele Pittaluga" Guitar Competition in Alessandria, Italy 2009, Julian Arcas Guitar Competition, Spain 2011. Besides solo recitals, he is also devoted to chamber music. He has had several opportunities to play guitar concertos with symphonic orchestras in Hungary and abroad.
He has frequently been asked to give master classes in various countries, such as China, Estonia, France, Great Britain, Greece, India, Romania, Russia, USA and his native Hungary. At the moment he is appointed professor at Liszt Ferenc Academy of Music in Budapest.
Balázs Hornyák is a Hungarian flutist, music educator. He graduated from the Conservatory of Szeged University with distinction then he obtained his master's degree in flute performance from Pécs University, Faculty of Music. Balázs started his career in the Symphony Orchestra of Szeged National Theatre. He has worked with Symphony Orchestras as a freelance musician, involved in musical performances in various theatres and performs with different chamber music formations regularly. He also teaches musical talents and helps them start a musical career. His students have been awarded in regional and national competitions. Besides this, he researches arts education and musical talent and lectures at national and international conferences about the results. He is a member of the European Council for High Ability and became a European Music Council Fellow in 2016 and participates in the work of EMC.