Rintaro AKAMATSU, born in Oita (Japan) in 1978, started the piano and violin at 2 year-old and cello at 6 year-old. Many concerts and broadcasts on public since his childhood. He performed Mozart's concerto with cadenza extemporaneously at 10 year-old. After the Grand Prix of "All Japanese Students' Music Competition" in 1990, he won numerous prizes in Japan.
His first international honor was the 3rd prize on "Clara Schumann" international piano competition in 2000. One of juries was Martha Argerich, and Dr. Joachim Kaiser mentioned him as "an intelligent and talented pianist" on ZDF's program. Later years, he won more than 10 prizes in international competitions.
He majored musicology at the Kobe University, and got Diplôme supérieur de concertiste (a l'unanimité avec félicitations du Jury) of both piano and chamber music at the Ecole Normale de Musique de Paris. While staying Düsseldorf, Paris and Budapest, he studied under Mikhail Voskresensky, France Clidat, Jean Micault, Nina Patarcec, Christian Ivaldi, Gyorgy Nádor, Zoltán Kocsis.
He performed in Saint-Petersburg (2000), Düsseldorf (2001/2013), Taipei (2002), Paris (2003-2005), Beppu Argerich Festival (2004), Roma (2005), Budapest (2005-2007), Bogotá (2010), Vienna (2013) etc.. He regularly takes more than 60 concerts a year in Japan including concerto and chamber music. His newest CD recording will be released by KING INTERNATIONAL in 2014.
As a professor, he appears many winners in various competitions from 200 students. In addition, he has much activities as a jury, an essayist of papers and magazines serially, and the managing director of the Japan Liszt Society. He became a guest professor from 2016 april.
MARTONE GIUSEPPE (Pianist) Born in Rome, he graduated in piano with honors from the State Conservatory of music "Licinio Refice" in Frosinone, under the guidance of Prof. Marylene Mouquet. He studied jazz music with Maestro Gerardo Iacoucci, later studied composition and has attended various courses of Advanced Piano in Italy and abroad, including the most significant ones stand out with the Masters Vladimir Krpan in Sorrento, Aquiles Delle Vigne in Flaine (France) and at the Mozarteum in Salzburg, Aldo Ciccolini and Bruno Canino in Rome, Florence, Naples and at the Hochschule "Franz Liszt" in Weimar (Germany). Has always distinguished itself in several national and international piano competitions, since 1991 he performs regularly in concerts, with chamber ensembles (from duo to quintet), as solo several times in recitals and as a soloist with orchestra (Mozart – Concert K466; Beethoven – Concert n. 3; Mendelssohn – Concert in la minor and other) in many italian cities (Roma, Perugia, Napoli, Pizzo, Terni, Taormina, Marsala etc) and abroad; with repertoire ranging from Bach to the authors of the twentieth century. He is the Artistic Director of the Accademia Musicale Romana; of the International Competition "Academy Award" of Rome and of the Accademia Festival and Accademia Festival Jazz in Saracinesco (Rome). He is involved for many years of orchestras and also he is the responsible for the Orchestra of the Accademia Musicale Romana. From 2015 he is Artistic Director and Professor (piano, music theory and solfeggio) in the Courses in Convention with State Conservatory "S. Cecilia" in Rome.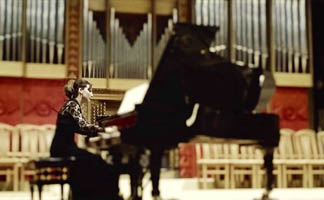 She was born is Miskolc, she started her musician studies at age 5.
Studies:  
ELTE-PPK Mentor teacher programme
PTE Musician artist Master piano artist teacher programme
ELTE-PPK teacher exam – Kovács-method
Liszt Ferenc Zeneművészeti Főiskola (musician  college), Miskolc
Bartók Béla Zeneművészeti Szakközépiskola (musician high school), Miskolc
Egressy Béni Zeneiskola (music school), Miskolc
Her piano teachers: Bacsa Tiborné, Csabay Csilla, Balázs Adrienne,
Kincses Margit, Király Csaba.
She has taken part – inter alia – courses of Falvai Sándor, Keveházi Gyöngyi, Némethy Attila, Gyimesi László, Vásáry Tamás, Malcolm Bilson.
Concerts: Austria, Switzerland and Italy
She has given many charity concerts in Hungary and abroad.
She is a constant participant of the Váci Világi Vigalom (Vác secular feasting).
In 2013, EMMI (Ministry of Human Resources, department of Hungarian Goverment) adjudicated her the "Bonis Bona – For the Talents of the Nation" award, because of her prominent work in music teaching and talent management.
From 2014 she is a member of "Nemzeti pedagógus kar" (national teacher faculty).
She has got the Master degree of teachers in 2014.
She became a musician consultant in 2015.
She won the X. International Music Competition "Musica Insieme"  III. award, 2015, 15th Concorso Internazionale "Don Vincenzo Vitti"  III. award, 2016.
She is a founding member of the Danubia Talents music event, 2016.
She will be a jury member of the 7th International Competition "Youth Academy Award", Rome, 2017
In the last  years, her students have won more than 100 awards, they were winners of  national and international competitons.
She is an enthusiastic representative and advertiser of Kovács-method, which takes an important part in her work.
Publications: dr. Kovács Géza Emlék könyv 2016.
Source: http://www.hetek.hu/interju/201402/zenelni_csak_szivvel_lehet
web: www.kissjulianna.com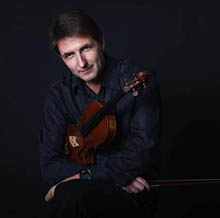 He's a Chamber music teacher at "Pollini" Padova's State Conservatoire. He started to study music at Asti's local music school, where he was violin teacher for nearly 20 years. He went on studying with Camillo Grasso (first violin at Rome's Opera Theatre), Corrado Romano (teacher of Uto Ughi) and Franco Gulli (concert performer and teacher at Bloomington University- USA). Before getting his degree in violin he started to work for some of the most important National Orchestras (RAI national television, "Carlo Felice" Theatre in Genova, Opera Theatre in Rome, Regio Opera Theatre in Torino and some others…).
Then, he devoted himself to the study of chamber music and founded the  Athenaeum Piano Quartet that made him win several prizes in different competitions. He also performed concerts for important associations and attended Siena's Chigiana Academy (tnanks to a grant) where he got a merit degree. He played in a quartet with Bruno Canino and Pier Narciso Masi, two of the most important Italian pianists. Besides, he often performed solo concerts and he was first violin in many Italian orchestras. He founded Asti's Chamber Ensemble and promoted Asti's Symphony Orchestra, whose first concert, conducted by Orio himself,  took place at the "Alfieri"  Theatre in Asti.
After taking a public examination he became a  conservatoire teacher.
He has been giving summer proficiency courses since 1999 and Masterclasses in Malaga and Oviedo, (Spain), Cyprus, Banska Bystrica (Slovak), Porto and Braganca (Portugal), Istanbul (Turkey), Timisoara (Romania), Thessaloniki (Greece), Francisco Beltrao (Brazil), China (Beijing, Nanjing, Suzhou, Wuhan, and others), Kazakistan (Astana and Almati).
He played in Italy, Swisserland, Germany, France, Austria, Finland, Spain, Portugal, Greece, Slovak, Chek Republic, Brazil, China, Kazakistan, Cyprus, Syria.
Invited by State Conservatory in St. Petersburg for an educational meeting.
In addition, he got a degree in viola.
He was often invited as a member of the Tekfen Filarmonyc Orchestra in Istanbul, formed by the best musicians of more than 20 different countries.
From november 2009 to 2015 he was director of the "Buzzolla" Conservatory of Music in Adria.
András Csáki was born in Budapest 1981, and began to play the guitar at the age of 11. He graduated at the Liszt Ferenc Academy of Music with honor in 2007, where his professor was József Eötvös. In 2012/2013 he pursued graduate studies in the University of Southern California as a student of Scott Tennant. He received his Doctorate degree in 2014 at the Liszt Ferenc Academy of Music. Since 1995 András has been a regular participant of international master classes all over the world, including master classes held by Manuel Barrueco, Leo Brouwer, Abel Carlevaro, Costas Cotsiolis, David Russell, Angel and Pepe Romero.
Until the year of 2011 he received 24 prizes, among others he was awarded with the first prize in the 51st Tokyo International Guitar Competition in 2008, and in the 42nd "Michele Pittaluga" Guitar Competition in Alessandria, Italy 2009, Julian Arcas Guitar Competition, Spain 2011. Besides solo recitals, he is also devoted to chamber music. He has had several opportunities to play guitar concertos with symphonic orchestras in Hungary and abroad.
He has frequently been asked to give master classes in various countries, such as China, Estonia, France, Great Britain, Greece, India, Romania, Russia, USA and his native Hungary. At the moment he is appointed professor at Liszt Ferenc Academy of Music in Budapest.
Balázs Hornyák is a Hungarian flutist, music educator. He graduated from the Conservatory of Szeged University with distinction then he obtained his master's degree in flute performance from Pécs University, Faculty of Music. Balázs started his career in the Symphony Orchestra of Szeged National Theatre. He has worked with Symphony Orchestras as a freelance musician, involved in musical performances in various theatres and performs with different chamber music formations regularly. He also teaches musical talents and helps them start a musical career. His students have been awarded in regional and national competitions. Besides this, he researches arts education and musical talent and lectures at national and international conferences about the results. He is a member of the European Council for High Ability and became a European Music Council Fellow in 2016 and participates in the work of EMC.
Born in Huesca, began her studies at the Music School of Sarinena (Huesca), then it is formed with teachers Saya Sanguidorj (CEM Tchaikovsky) and Perfecto Garcia Chornet (Conservatory Joaquín Rodrigo Valencia) obtaining prizes professional grade Piano and Advanced Level respectively. Among numerous courses in different subjects related to music with teachers like A. Zaldivar and E. Gar-cía Asensio, among others, she highlights the grant from the DPH to the Willems Course with J. Chapuis in French piano music and Rosa Maria Kucharski in specialty of Singing and Piano (Lyon, France). Attends numerous piano improvement courses with E. Nebol- sin, L. Morales, V. Balzani, G. Gonzalez, J. Soriano, F. Clidat or O. Yablonskaya among others. He has been collaborating since 2007 in the "International Meeting of Pianists Kingdom of Granada", where he perfected her studies as an active student.
She has won various prizes in piano competitions such as the City of Teruel Prize International Piano Competition Anton Garcia Abril in 2007, which is knowledgeable and studious of his work for piano. Its varied repertoire includes works from all periods and styles for both piano solo as chamber music and orchestral repertoire, with majoring in Spanish Music.
She has performed at several venues in Lyon, Paris, Mezin, Aragon, Basque Country, Galicia, Toledo and Valencia receiving high prai-se from critics for her communication skills and artistic quality. Frequently teaches master-classes on piano technique and interpretation by all the Spanish geography.She has worked as an assistant of Saya Sanguidorjin in the CEM Tchaikovsky (Huesca) and has been teaching piano at the Conservatory of Music in Silla and C.EM Vicent Vera in Sueca. She is regularly invited as a jury in national and international contests. Founder and Artistic Director of "Vila de Xabia" International Piano Competition, "Music in the Riurau" International Music Festival and APAM Arts&Music (Association of Pro-fessionals and Friends of Music), which is also Vice-President.
Since 2003 she is professor at the Conservatory of Music of Javea, where several of his students have been winners in several national and international competitions.